Creating that environment to be top of the class!
It's the beginning of September, and we know what that means school is back in session. With all the chaos that comes with a new school year, its important to be organized and prepared for whatever life throws at you, or your home.  From the bedroom, to the study space, all the way out the door…your home needs to be teed up to help your students get the grades!
THE DROP ZONE

Whether you have an entryway, or a mudroom, this space in your home works overtime as it holds backpacks, sports equipment, shoes, and lunch boxes. To keep your home feeling like a home, rather than a locker room, it's important to keep your entry and mudroom space organized and equipped with the right tools and features.
HANGERS

Add hangers to your entryway or mudroom to keep backpacks, lunch boxes, and jackets off the floor. Keeping your space clean and organized allows you to better utilize the space and makes it easier for you to find the little things that would normally be "lost." Go a step further and add built-in lockers or cubbies to your mudroom or entryway. Even if you don't have kids, this is a great option to keep everything organized and off the floor.
CABINETS

Keep things hidden by installing doors or cabinets to your lockers and cubbies. If you are limited on space, add a bench that flips up for extra hidden storage.
SHELVING

Add shelves to your walls for easy access to everyday items. To keep your shelves neat and organized, add storage bins or baskets to store items like mittens, socks, or toys.
MESSAGES

Add a message board to remind the kids to do their homework and walk the dog, or add a calendar to remind everybody about weekly activities, practices, or daily chores. Go a step further and add chalkboard paint to a wall! Write messages to friends and family, or just daily reminders that can be erased at the end of the day.  Create a "you did it" wall, add a wall for your student's A+ work!
STUDY HALLS

Homework is coming…which means your kiddos need somewhere to do all their work, make all their projects, and store all their school supplies. For younger kids, make an area that is dedicated for gluing and coloring their projects. Junior high and high schoolers might need less of a craft area, and more of a quiet study area. No matter the age group, adding these items to their study space will help them succeed!
A study room is a great place for chalkboard paint for it gives students place to do practice problems. Chalkboard paint is also great for writing down reminders, to-do lists, or for showing off some of their A+ work!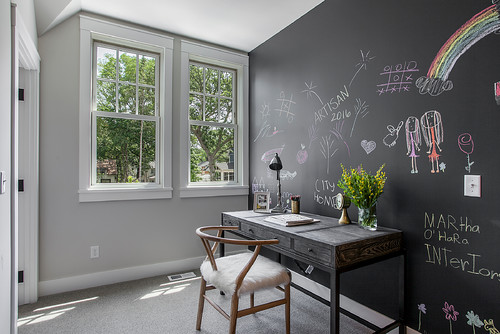 HOMEWORK STATION

Every study area should have a homework station that has everything from markers, to rulers, to extra paper. A homework station also helps to keep supplies organized for quick and easy access.  For your older students, you may want to create a space that is just their lounging space.  Outside of their bedrooms, kitchen island and family rooms create a space where they can have friends over to do projects or group study sessions.